Sport + Transforming the sports industry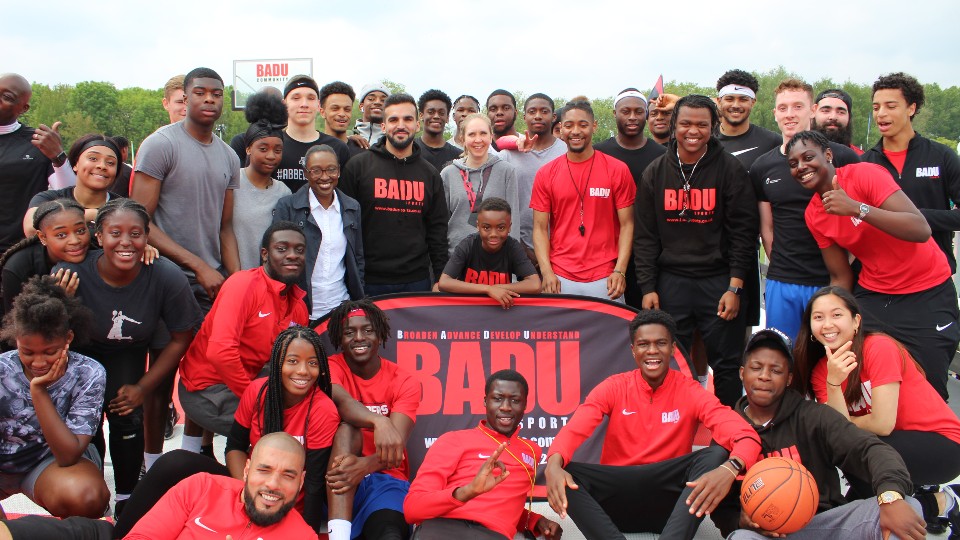 BADU and Loughborough University London are proud to announce a collaborative partnership project called Badu Sport +.
Based out of Queen Elizabeth Olympic Park on the Here East Campus, Badu Sports and Loughborough University share the same vision to extend and develop the legacy of the London 2012 Olympic and Paralympic Games by empowering the next generation of talent. through opportunities and a network of connections. . The Sport + project aims to make the sports industry visible and accessible to young people in East London and to develop them so that they can be part of the world of sport.
"I was born, raised and educated in East London. I know the talent here is among the best in the world, "said Olivia Eastwood-Gray, Badu Sport + program director.
She continued: "Talent is the lifeblood of all industries, but the sports industry is hidden from so many young people in East London. Badu Sport + aims to change all that.
Over 4 million people work in the UK sports industry and this figure continues to increase daily. A recent Sport England report concluded that 'sport and physical activity contribute £ 39 billion to the UK economy'. Despite the past six months, many industries have come to realize that if they only recruit through narrow and non-porous recruiting channels they are hurting their business, there is still a lot to be done to improve the sports industry.
Olivia Eastwood-Gray continued:
"This is where we come in. Badu Sport + is kindly supported by the Westfield East Bank Creative Futures Fund, funded by Westfield Stratford City and provided by the Foundation for Future London. We (young people of color, young black men and women, 16-24 years old who live in the four growth districts of London) are ready to revolutionize the sports industry. Together with Badu Sports and Loughborough University London, we've created a program that will use the power of three activities to make things happen. "
The Badu Sport + program will offer three interconnected program components; See it, be it, and share it. These will be carried out over an 18-month period, aimed at making the sports industry more visible and accessible. This will be done by:
Weekly mentoring session
Online panels and lectures from key figures, Loughborough University London graduates and industry partners
Visits to key recruiters
Professional development and employability sessions
Two special 100% tuition fee scholarships to study postgraduate taught program
Professional media training
Building an online community for the sports industry to provide opportunities for the top talent here in East London
Program director Badu Sport + Olivia Eastwood-Gray said:
"I grew up in Hackney and watched the construction of the London 2012 Olympic and Paralympic Games venue. I now work in one of the buildings that hosted the games and want to make sure everyone who lives in the surrounding boroughs knows how to follow in my footsteps. The buildings that housed the games are creating new opportunities in the sports industry. Whether it is eSports, broadcast or marketing of professional sports clubs and brands, with the talent of these boroughs, Sport + will truly transform the sports industry.
Badu Sports Founder and CEO Nana Badu said:
"We strive to build a legacy through youth vision by creating a knowledge-sharing platform to inform our community of the opportunities available to them and the skills to equip themselves to choose their best trip. This knowledge sharing will give them the means to build themselves and give them access to an opportunity that they deserve and that they can achieve. Loughborough University London and Badu see the gaps as the sports industry has not harnessed their abilities or their limitless potential; this opportunity is a way to influence change and ensure that all young people succeed and thrive.
Professor Tony Edwards, Dean of Loughborough University in London, said:
"We are proud to be part of the East London community. The Badu Sport + program will connect the great talents who are here with training, education and employment opportunities that can transform lives. Too many industries are invisible to the young people growing up in our community. Loughborough University London will use its expertise to open up the sports industry and bring about lasting change. In particular, this new program expands the possibility for the inhabitants of the region to study with us thanks to a scholarship of 100% of the tuition fees. We are very excited about the project and the opportunities it offers.